Background and Purpose
Only due to Bhagawan's immense Grace, Youth activities in Karnataka, such as Sri Sathya Sai Vidya Jyothi, Humanity of Positive Energy (HoPE), Youth Hospital Seva, District Youth Meets, are being conducted well.
However, a need is felt to emphasize on individual Sadhana along with these activities and thus a 41-day period from 02-Aug-2019 to 11-Sep-2019 is chosen for youths across all districts of Karnataka to practice personal sadhana. This will also act as a spiritual orientation for new youths.
Continuing with the above objective and in order to inspire new youths and to motivate all Sai Youths, a pilgrimage on Motor cycles to Prashanthi Nilayam is planned in October 2019, which spans across all districts of Karnataka. On 10-Oct-2019, the pilgrimage begins from respective districts. The route information and other details pertaining to the pilgrimage is mentioned here. This pilgrimage would act as a catalyst to inspire Sai Youths to spread Swami's message of Love and Seva and will also kindle interest about organizational activities among new youths.
The program also provides an opportunity to identify youth leaders in the organisation.
Ultimately, following our motto of 'Transforming self to transform the world', the core objective is to bring in self-transformation among youths through these initiatives which in turn will help transform the society.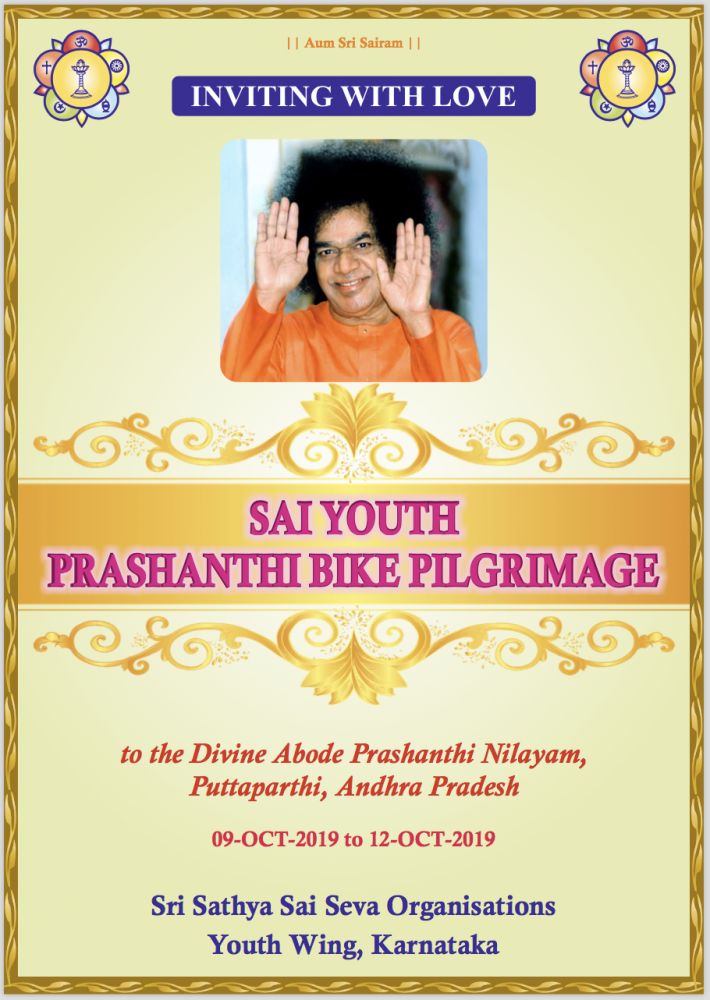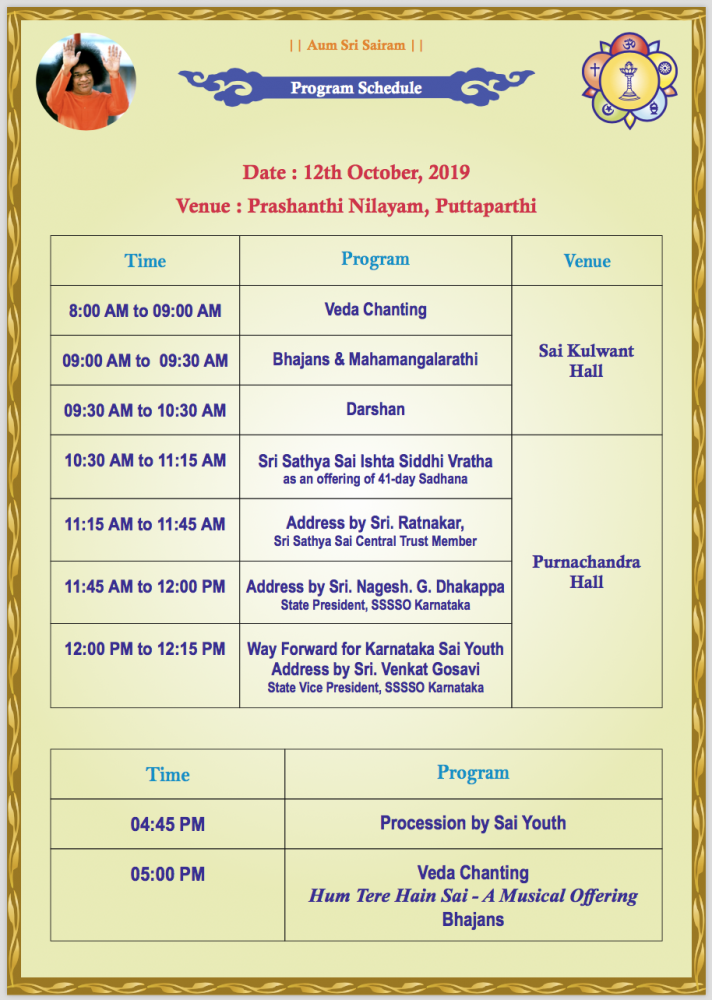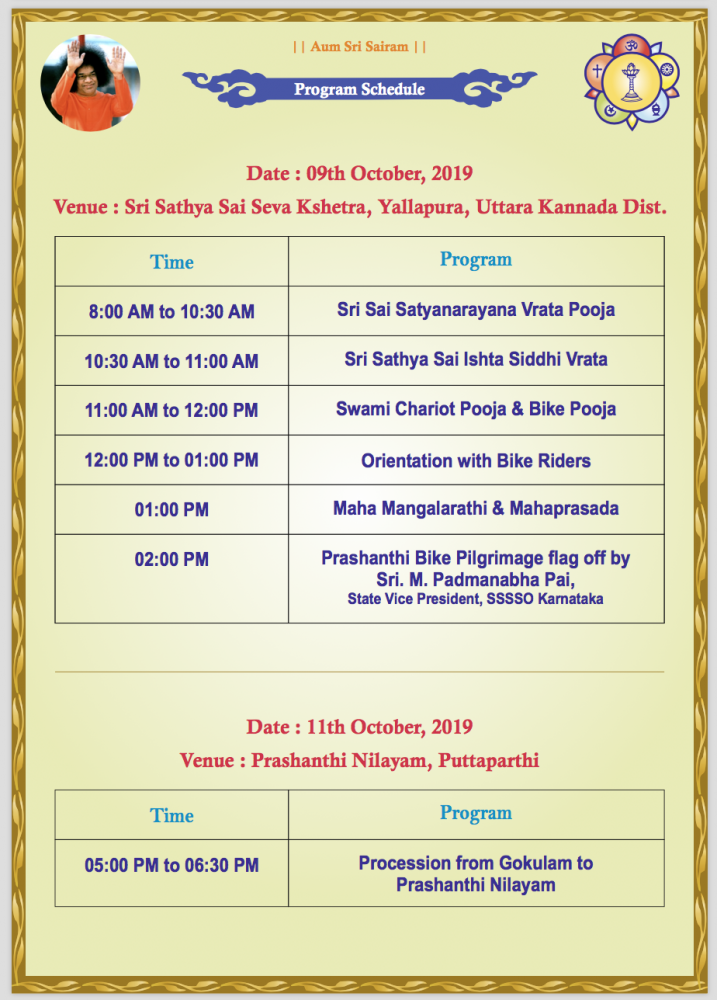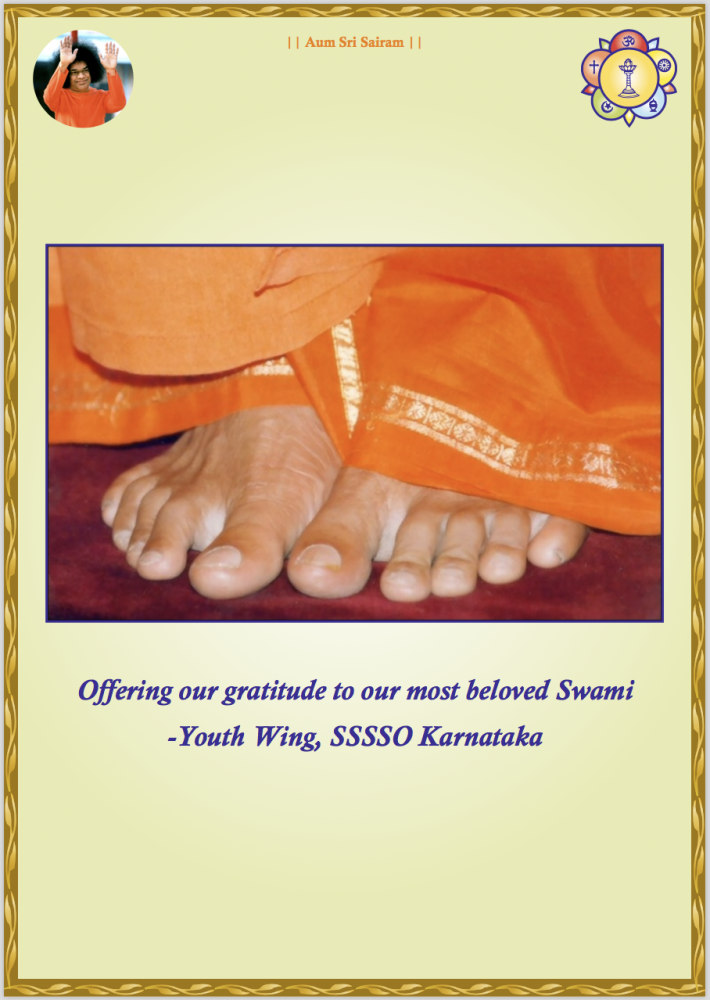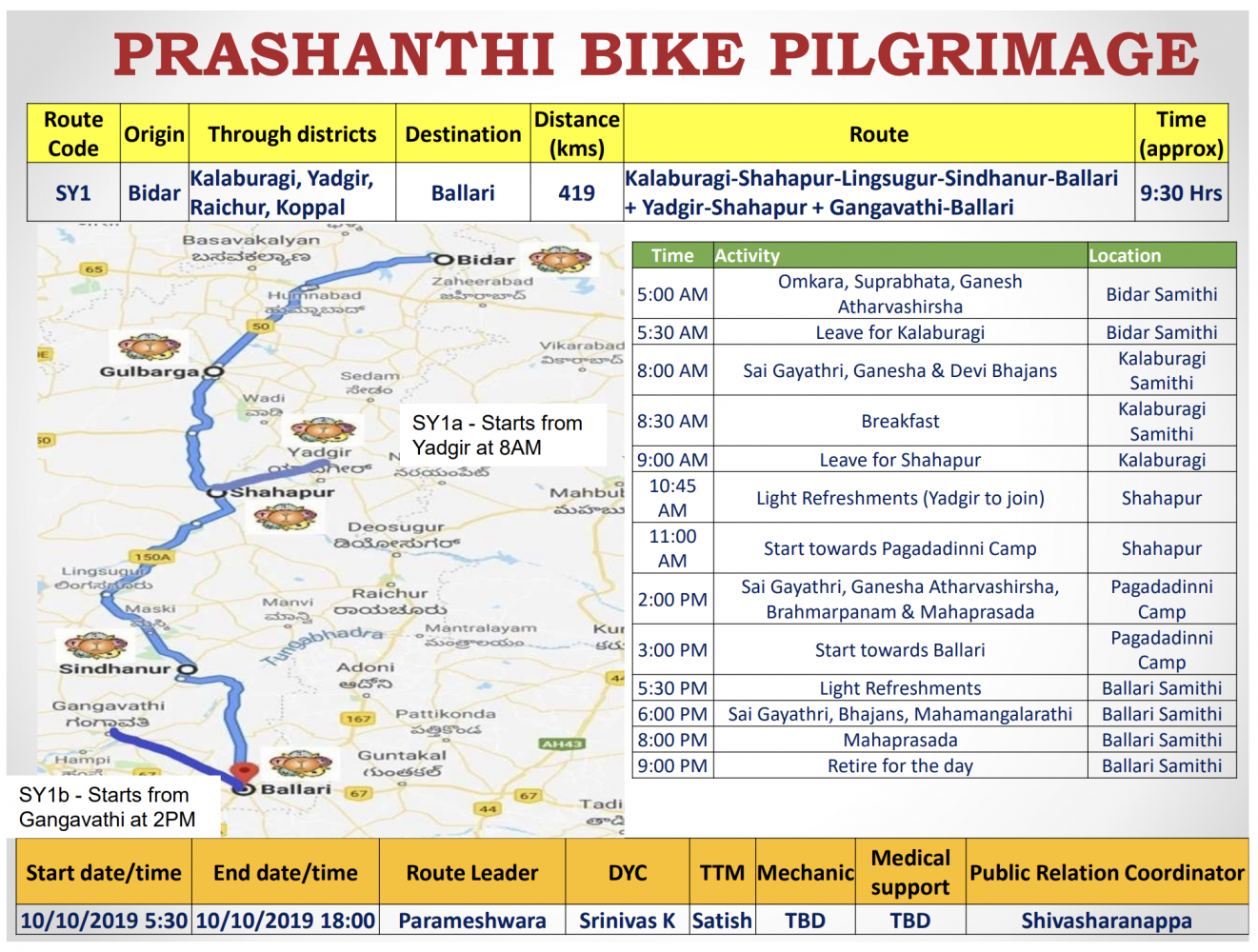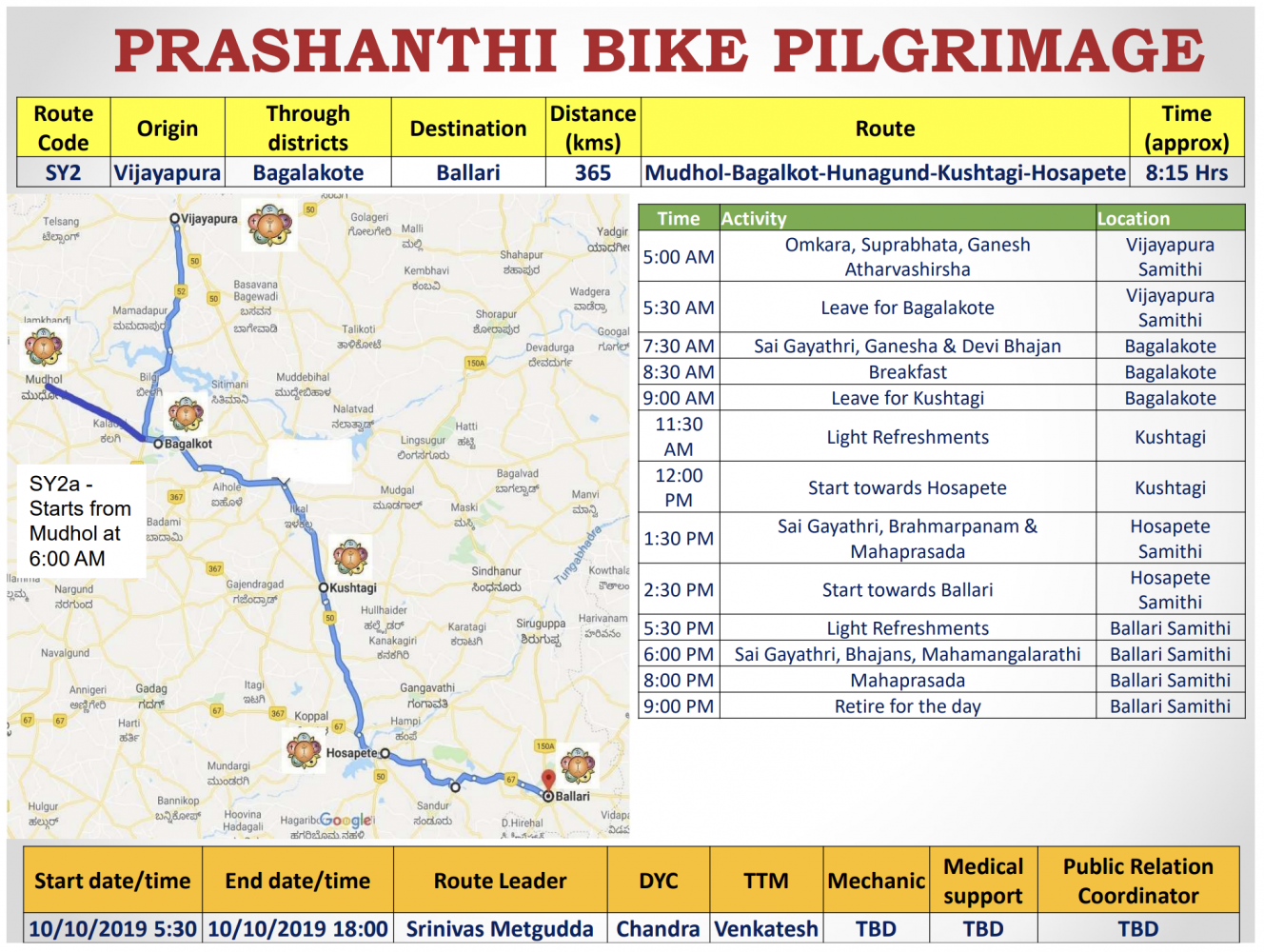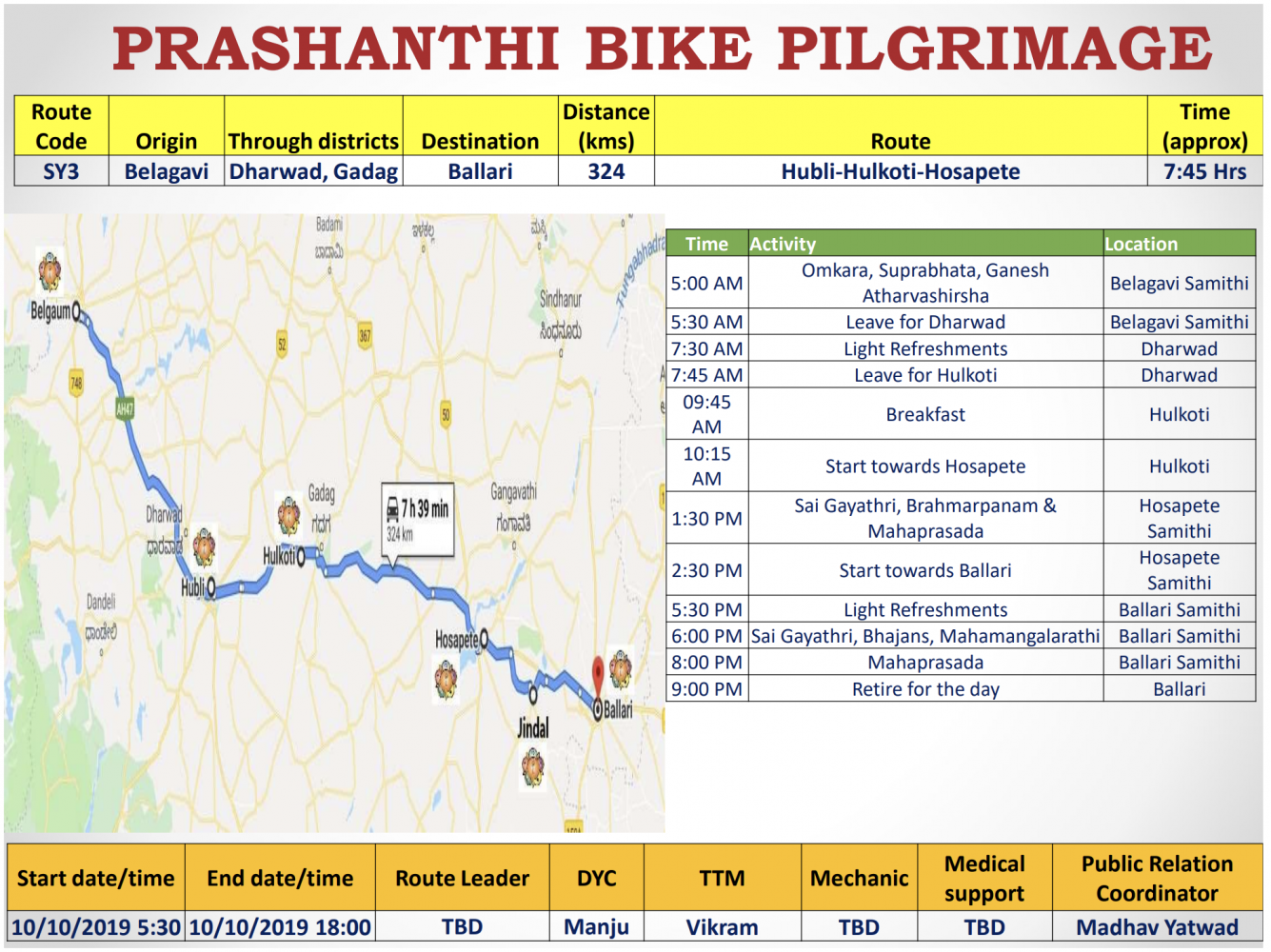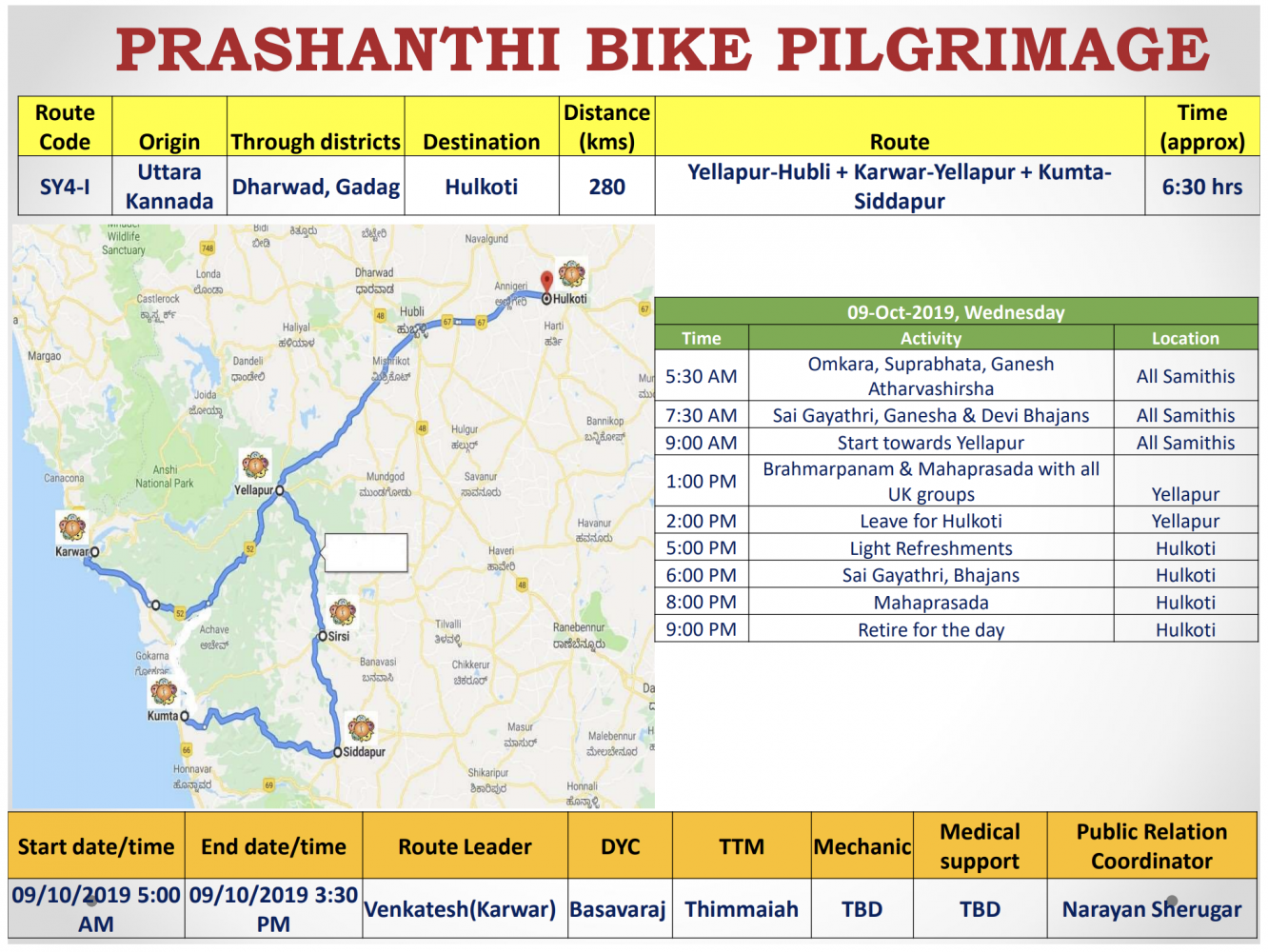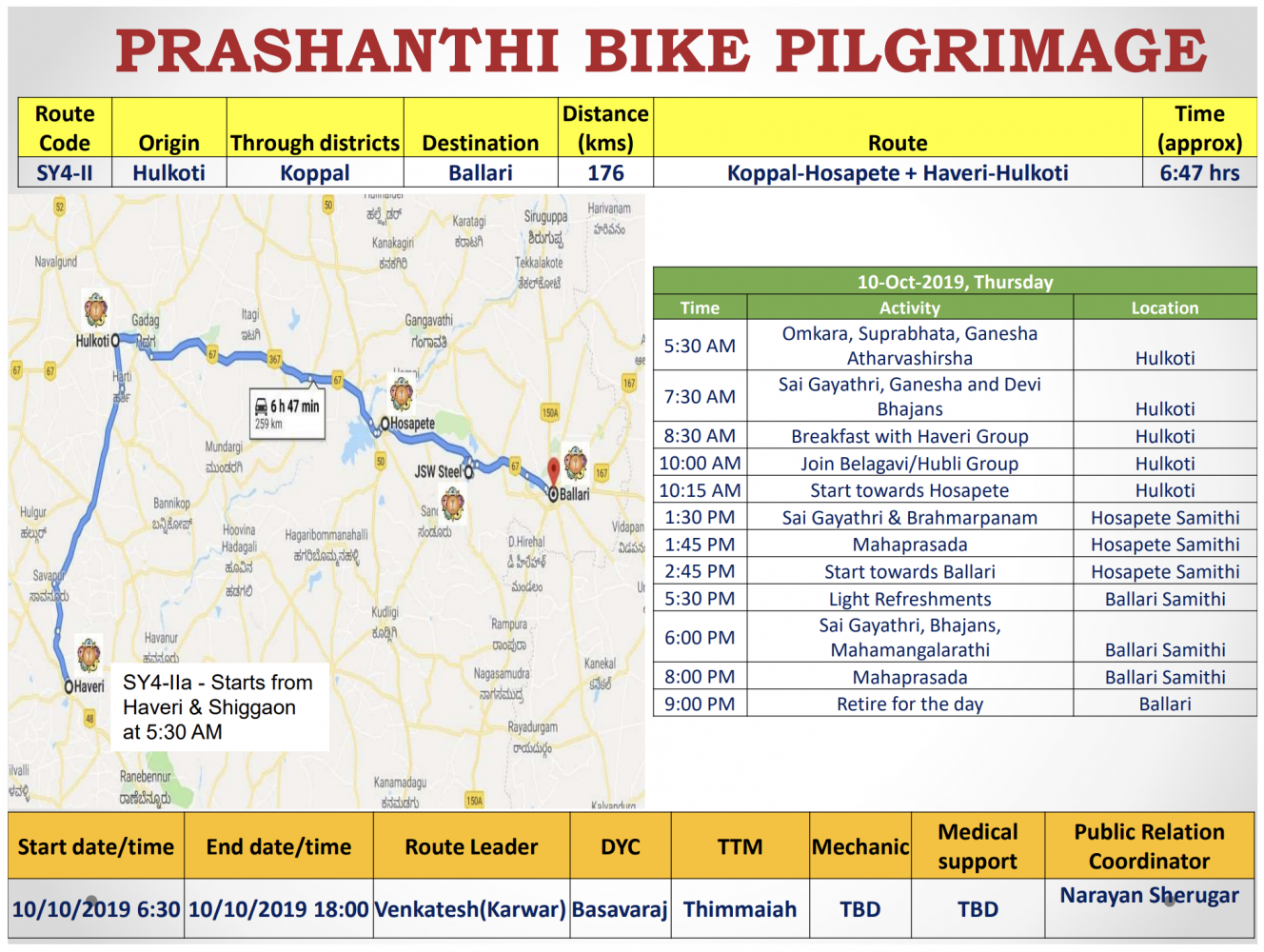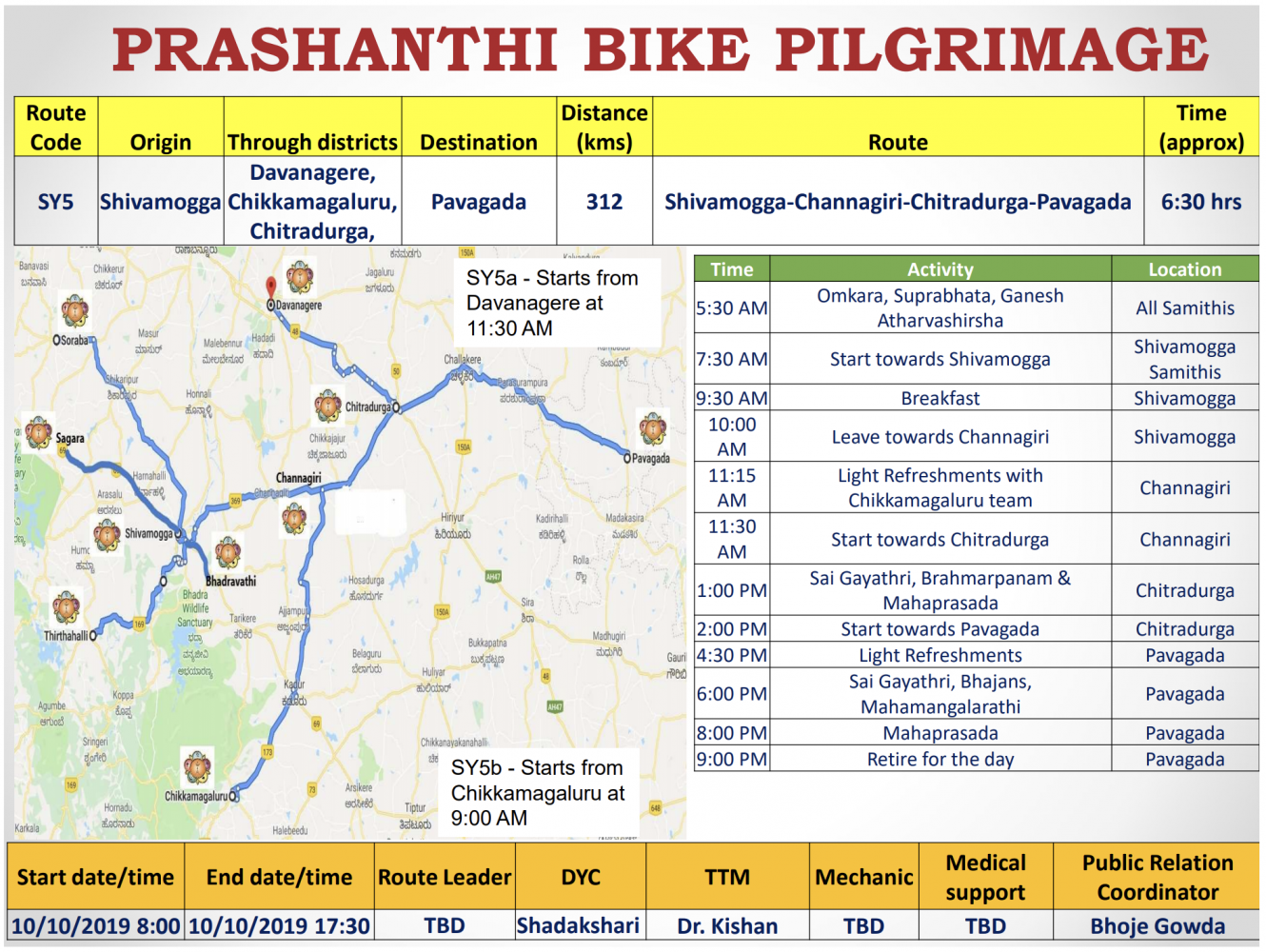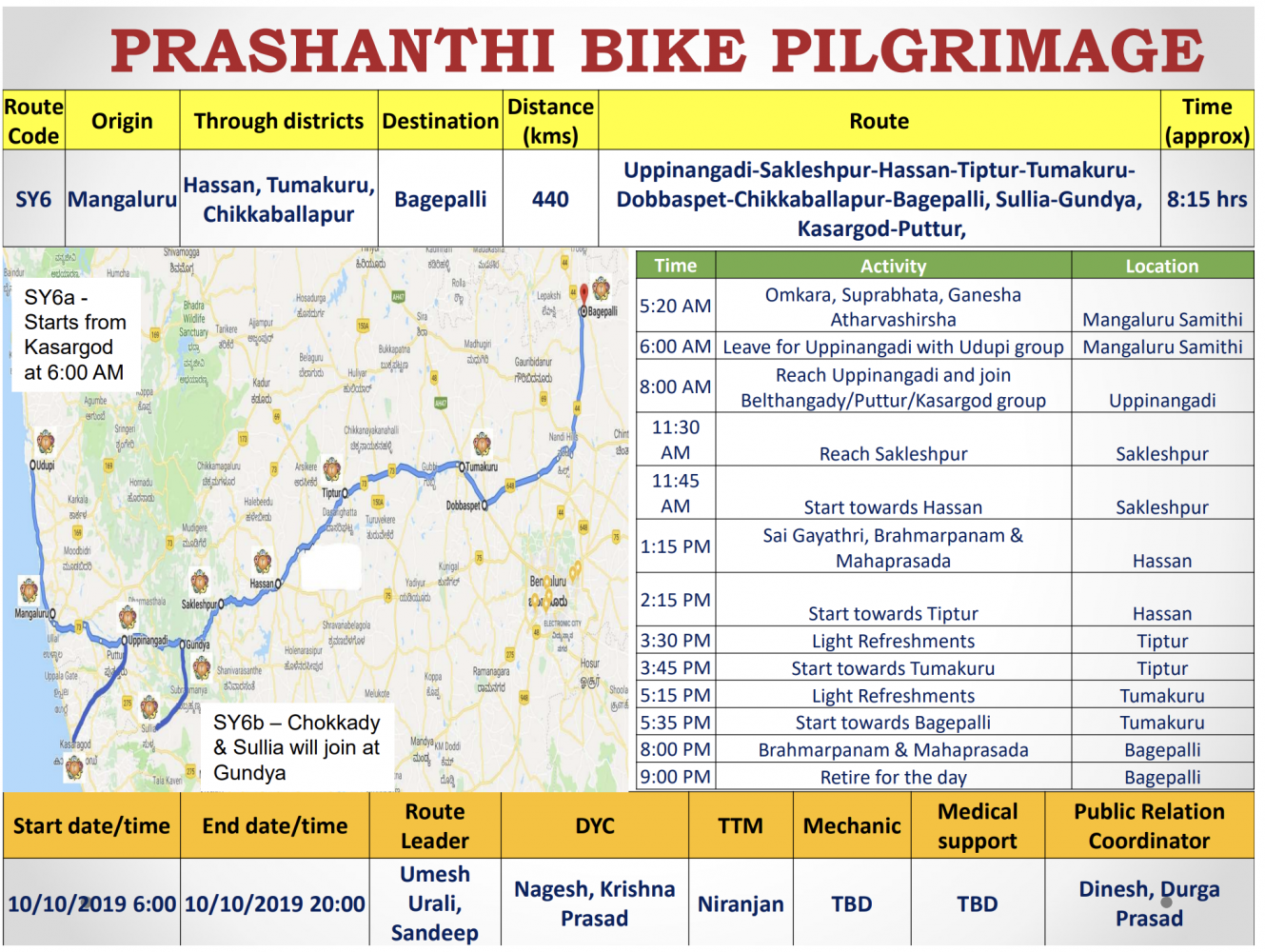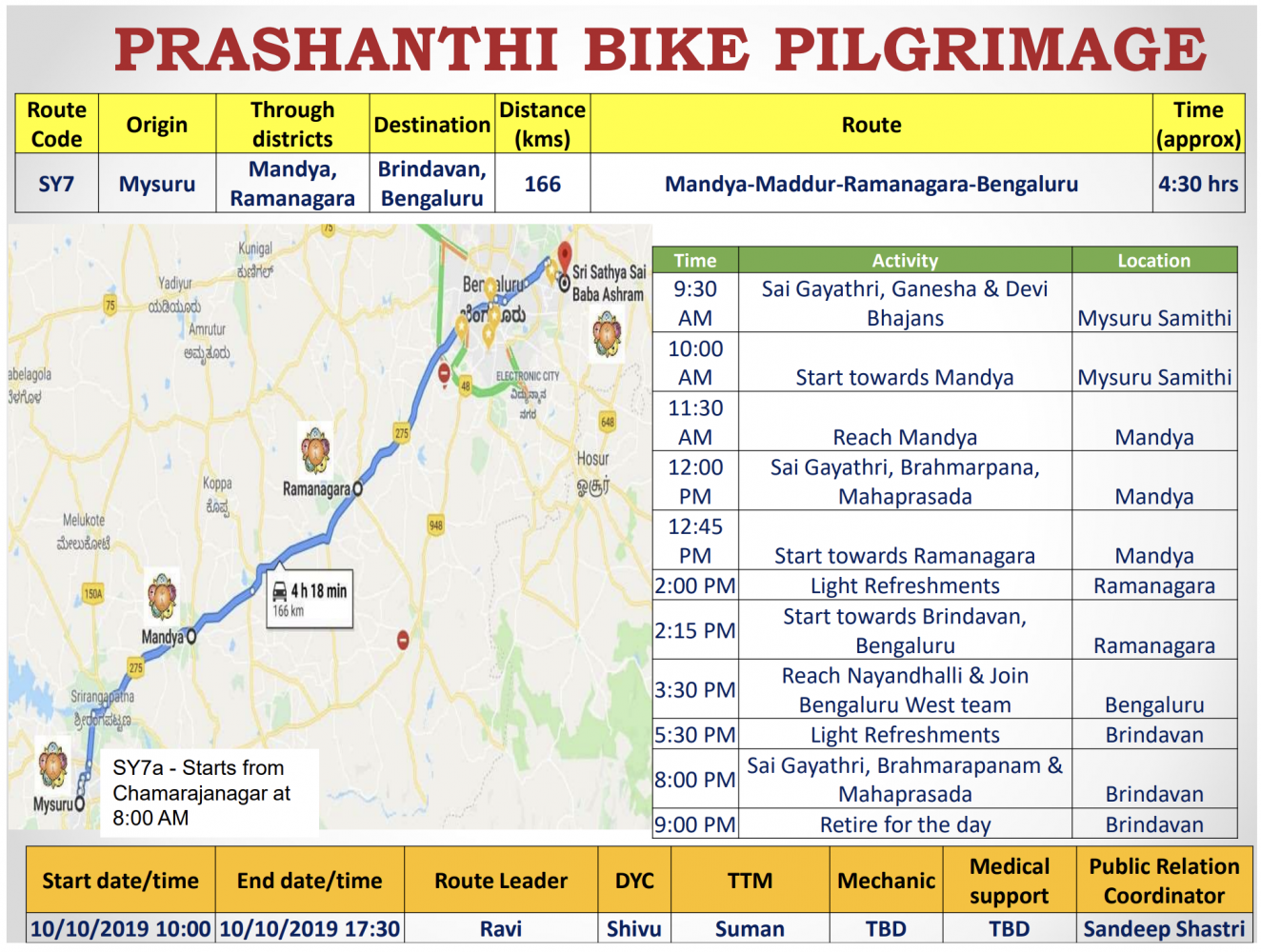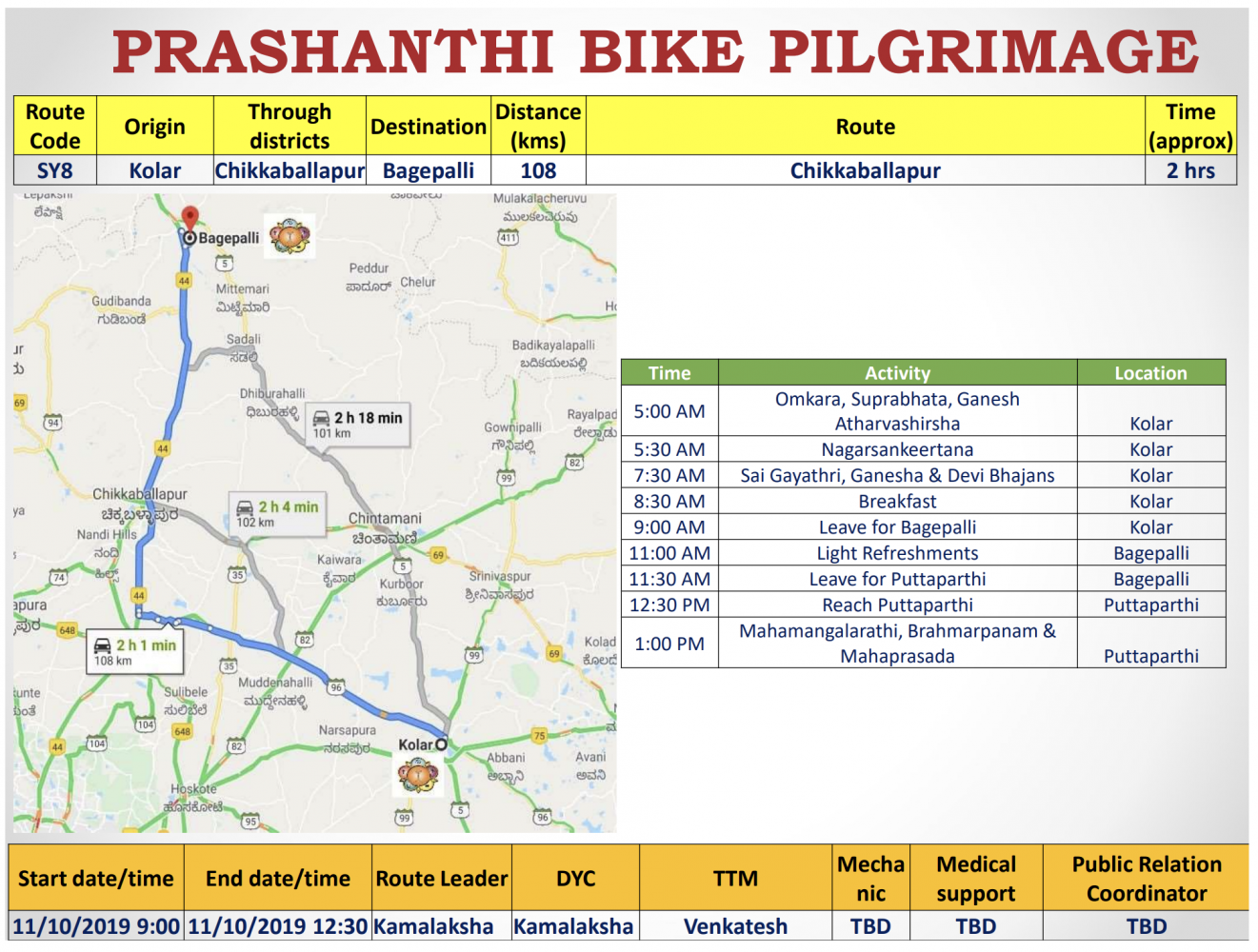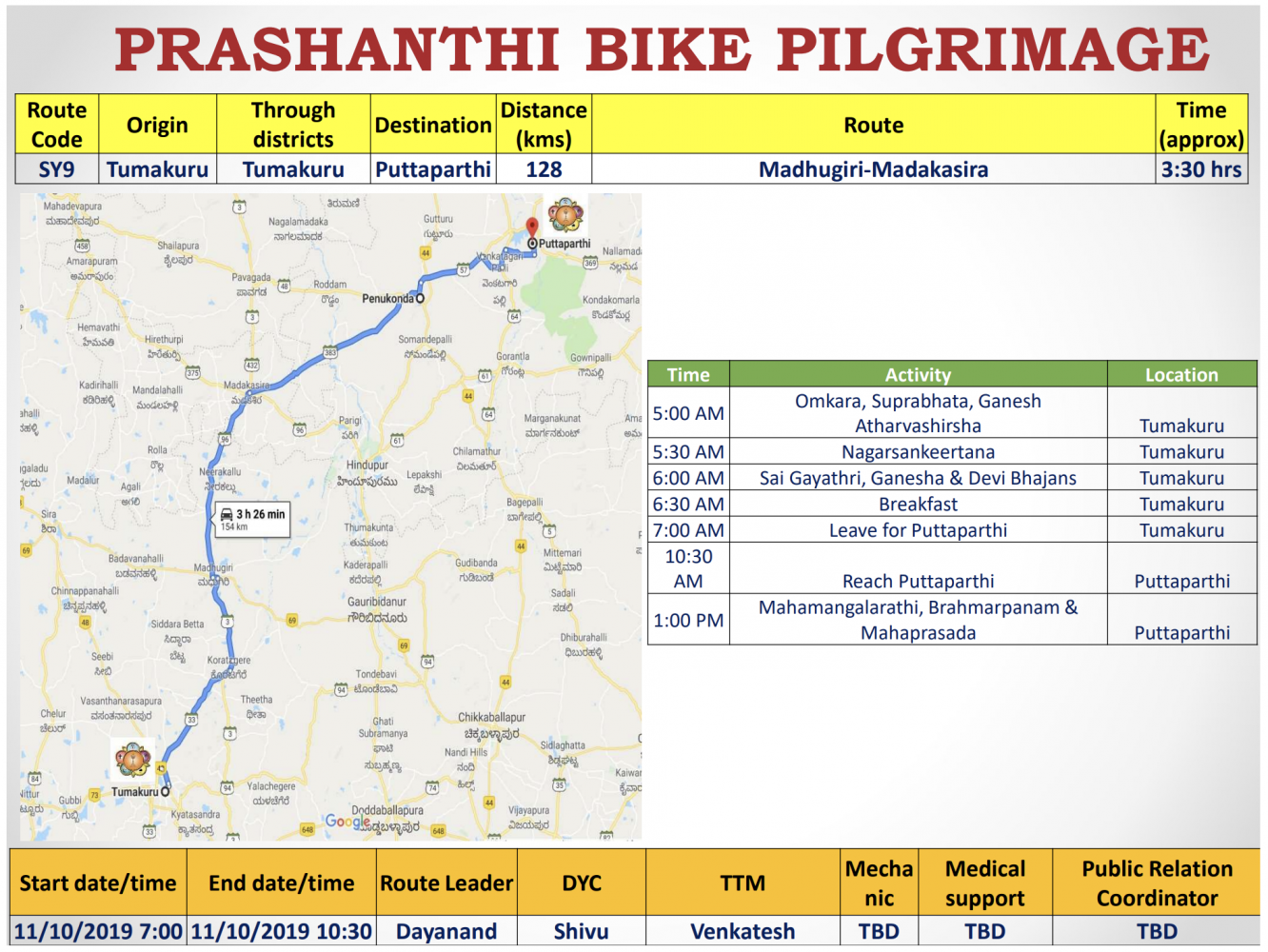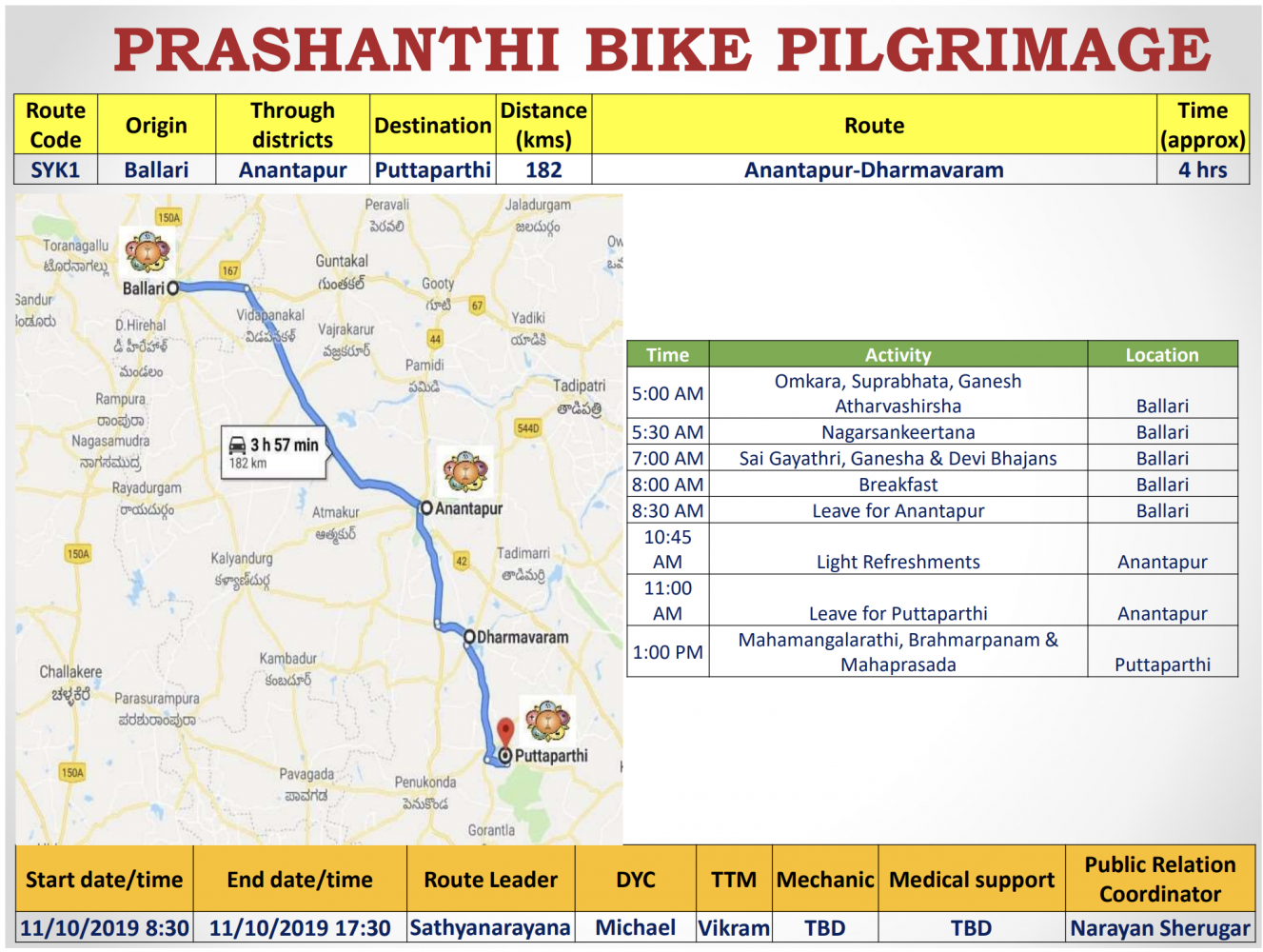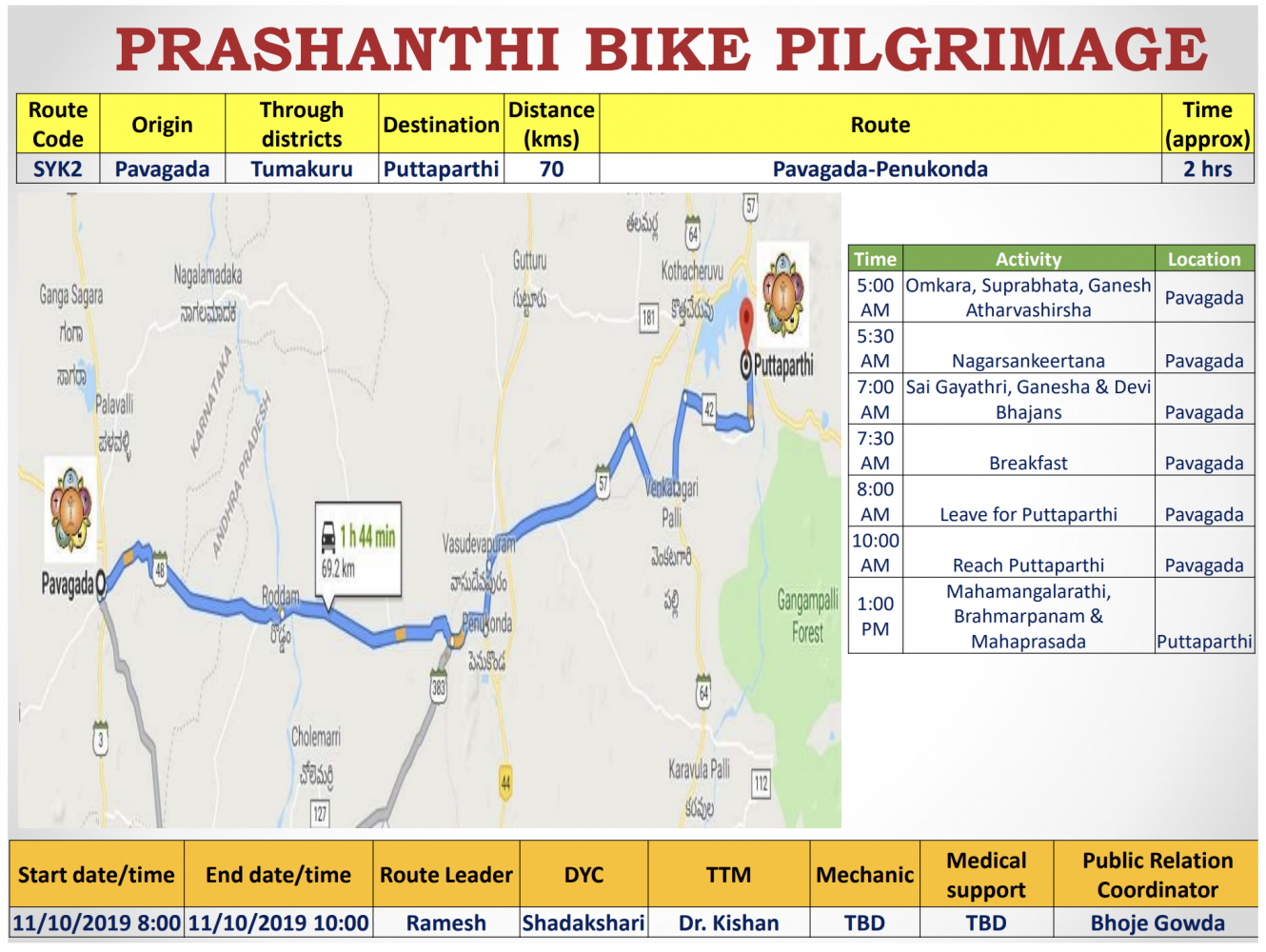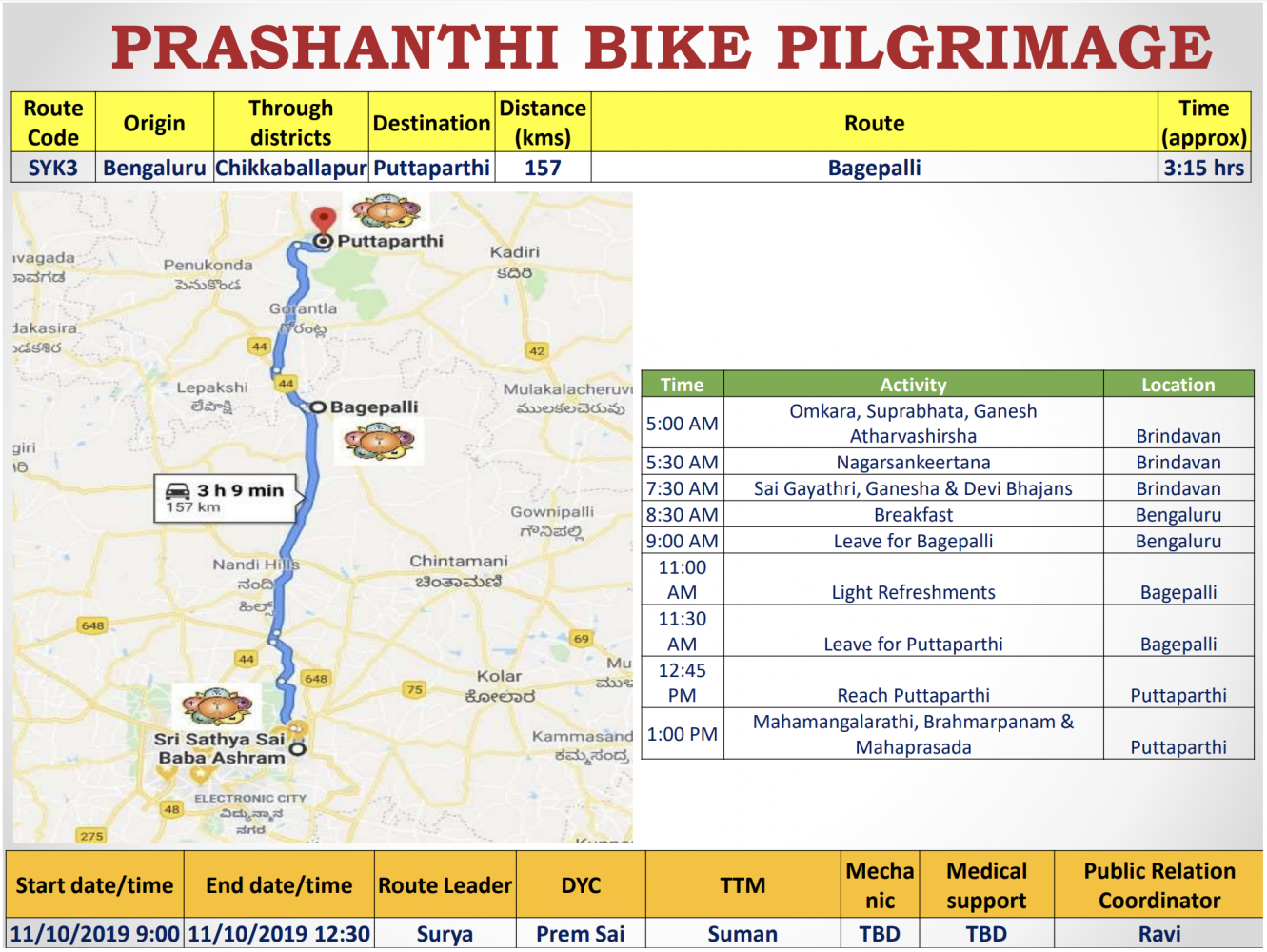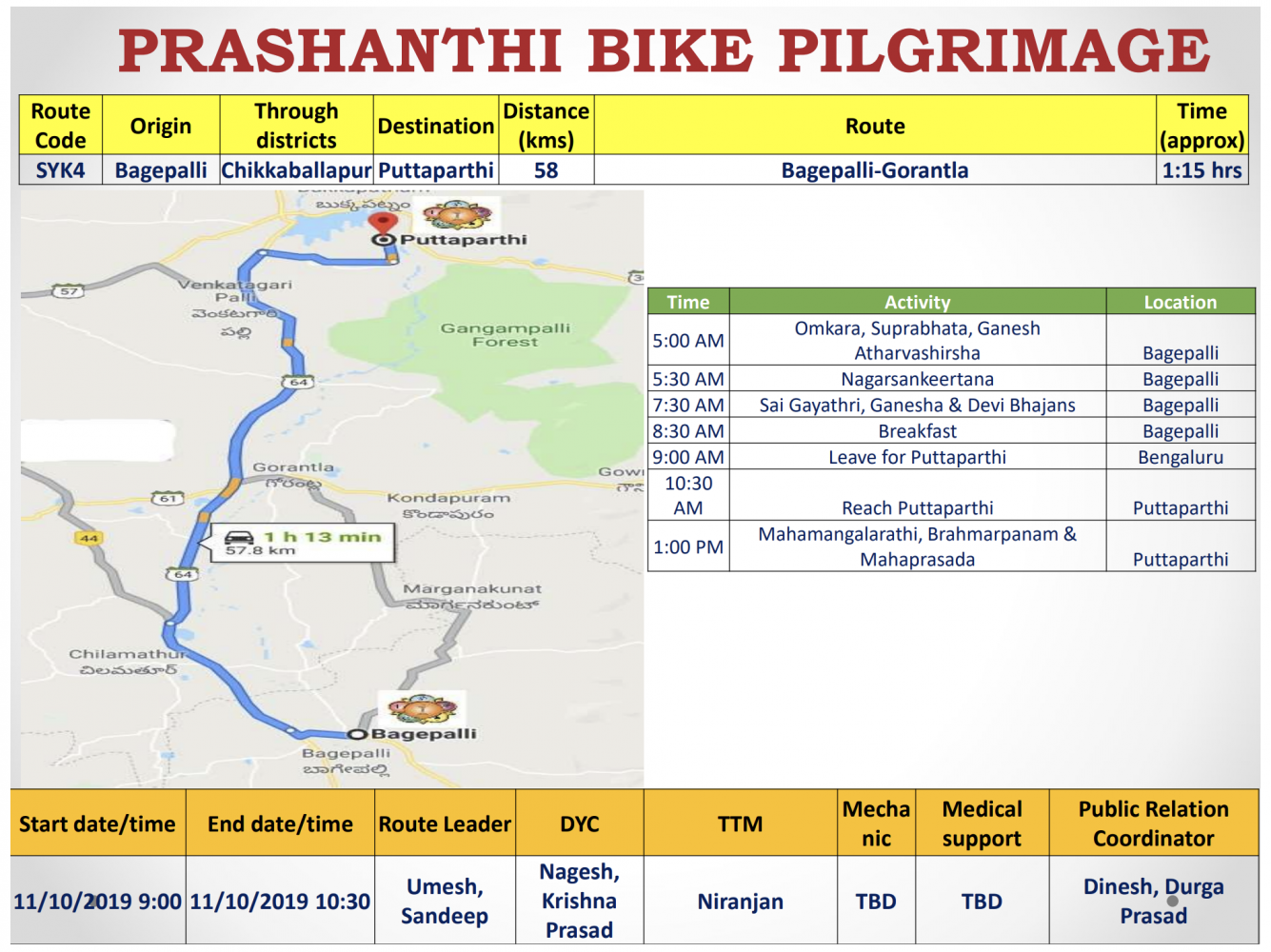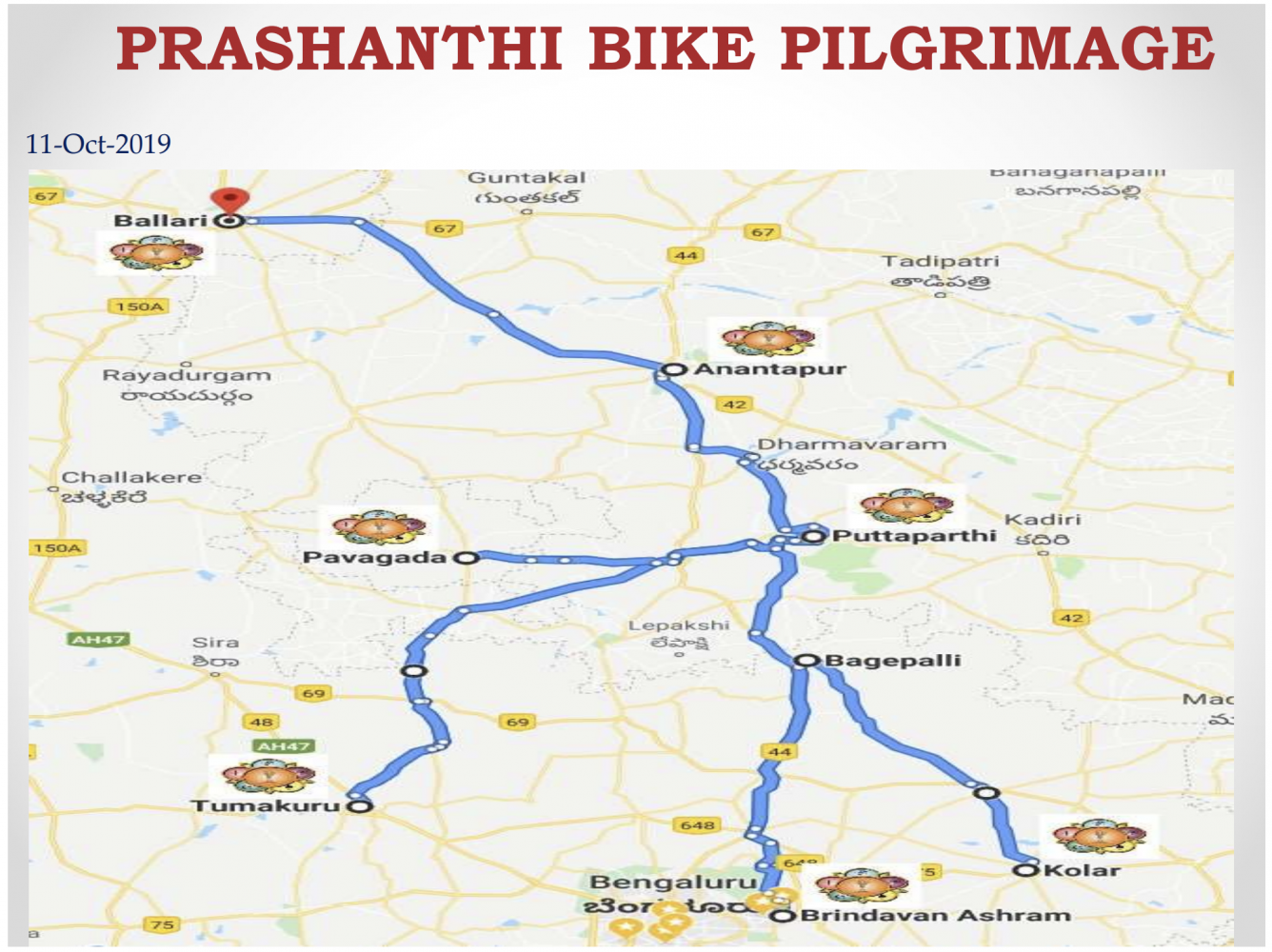 Greetings from All India President – SSSSO, on eve of Karnataka Sai Youth Bike Pilgrimage
October 8th
Pooja being offered to Swami's chariot at Kolsirsi, Uttara Kannada Dist.
Pooja @Kolsirsi to Swami's Chariot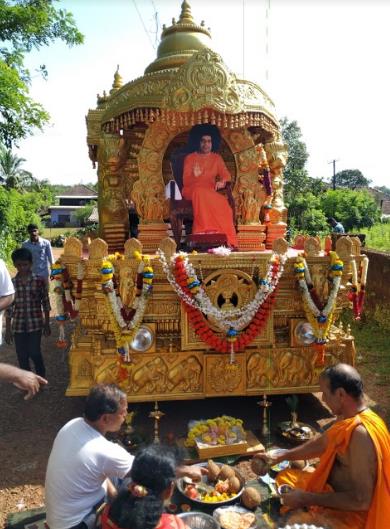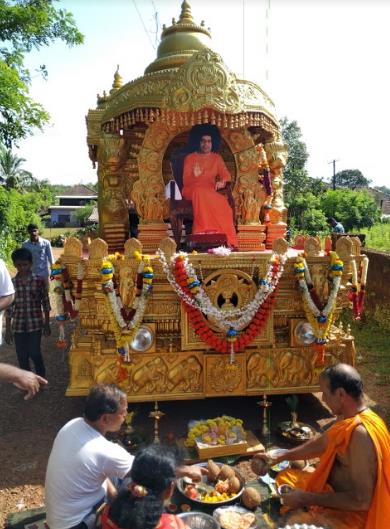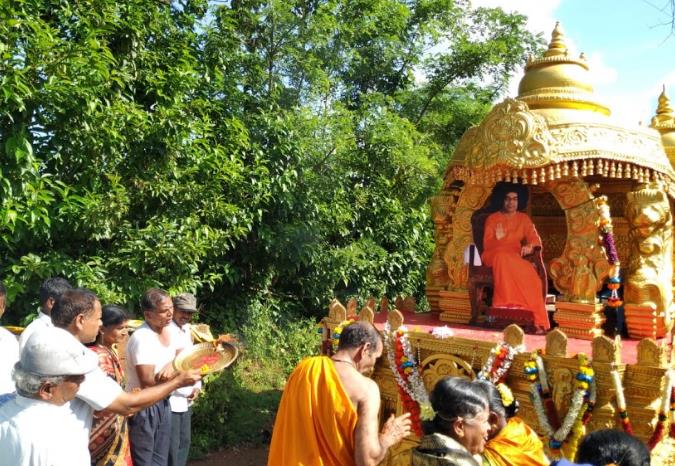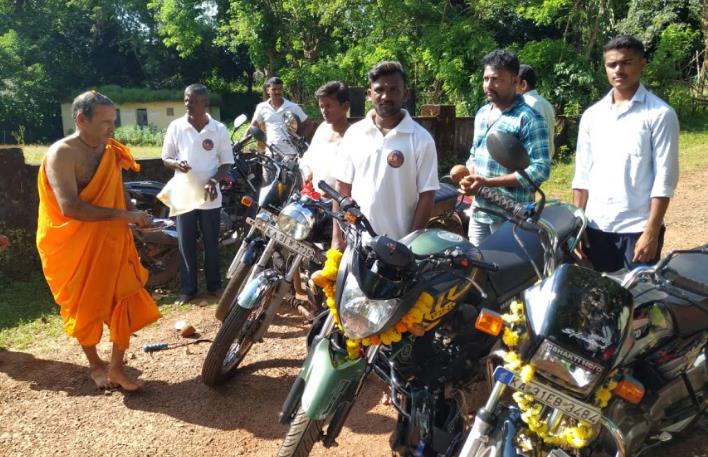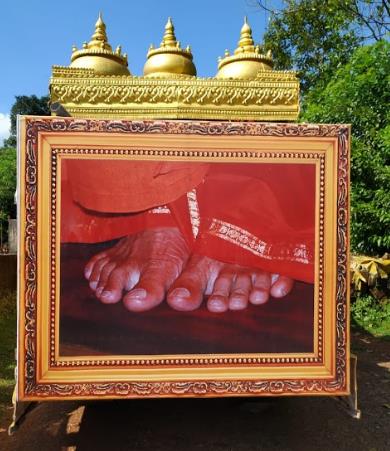 October 9th
Pictures from our districts
Aarti @ Mangalore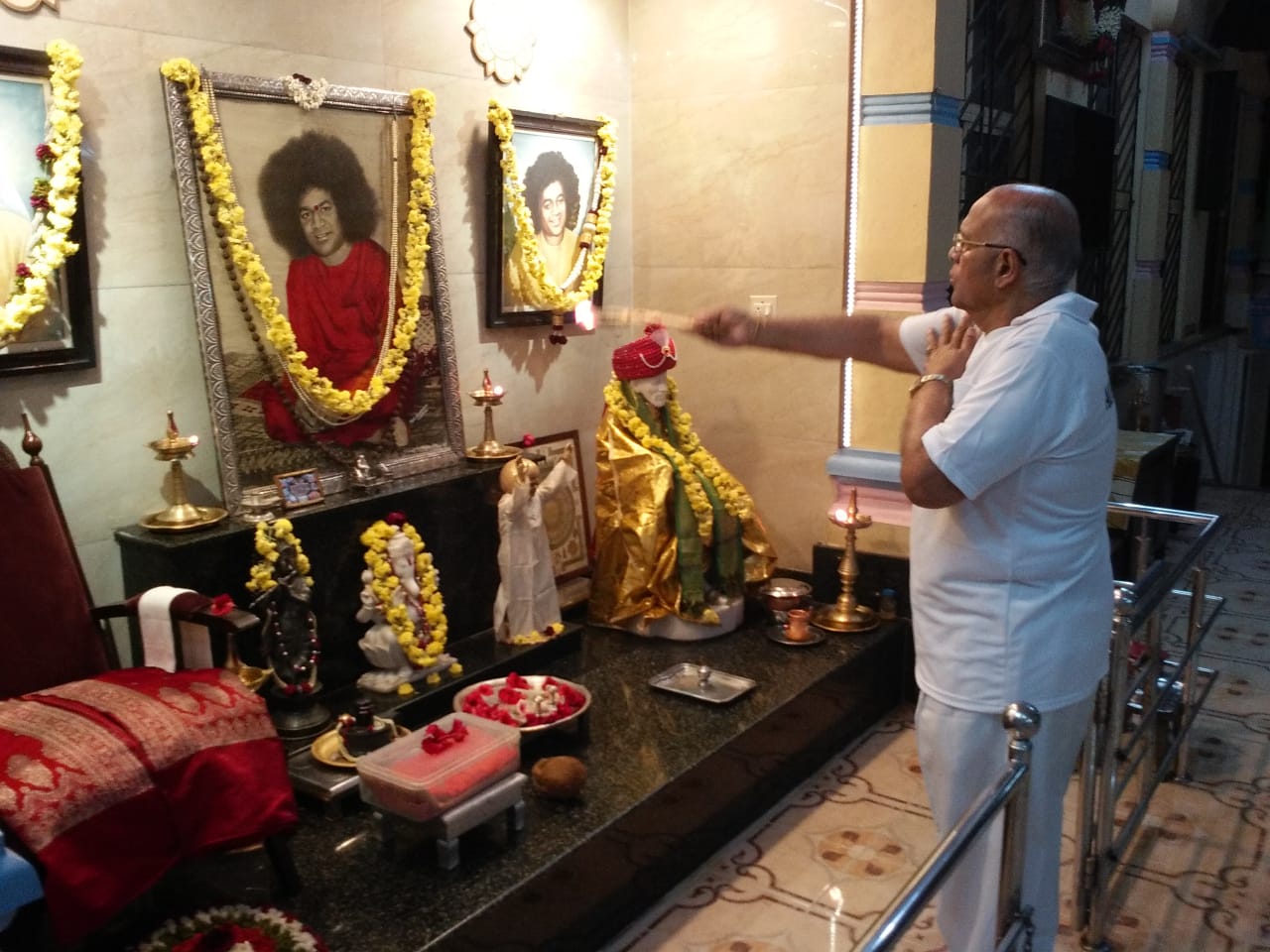 Flagging off at 6am in Mangalore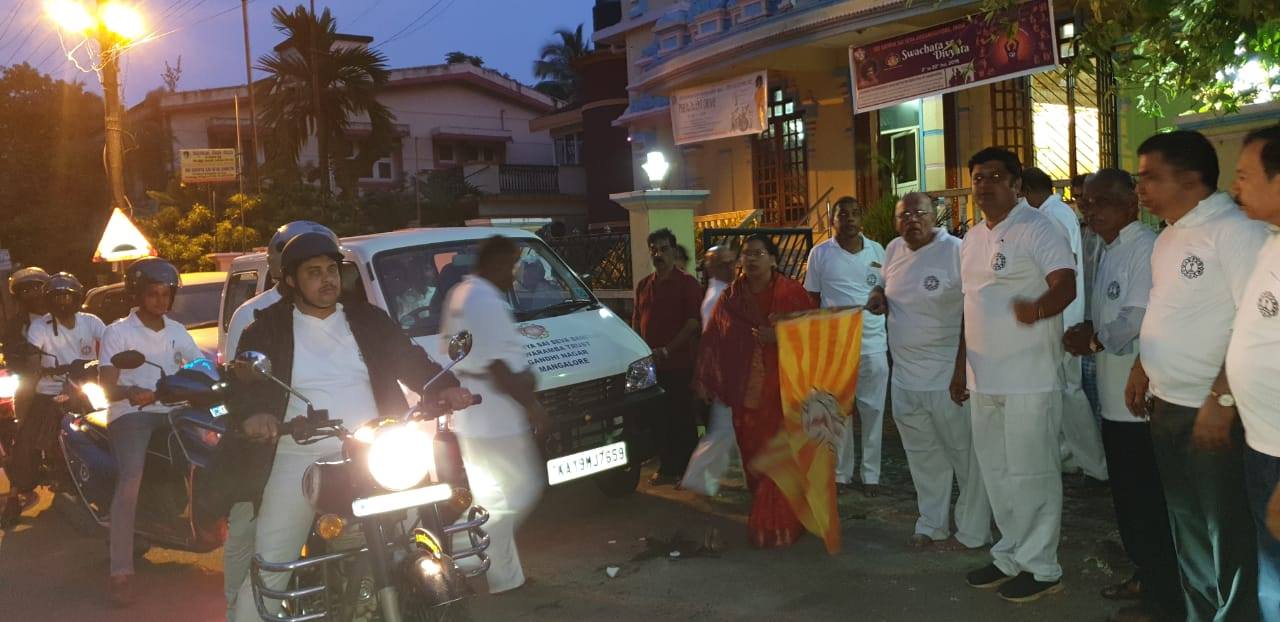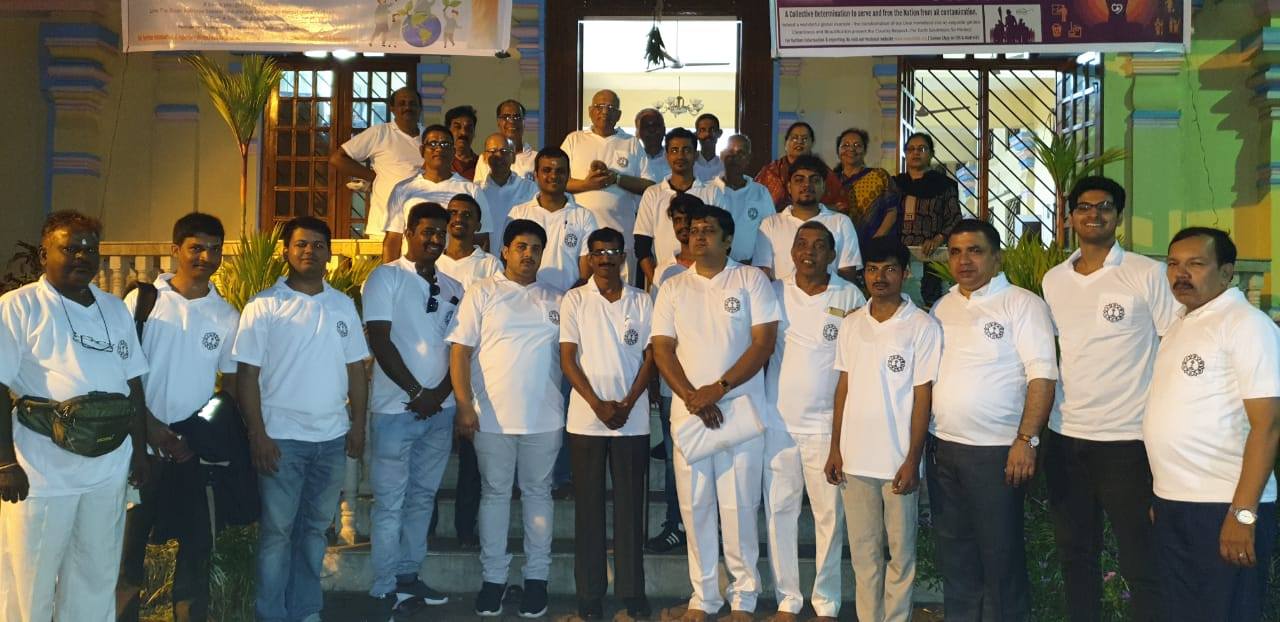 Chariot @ Yallapur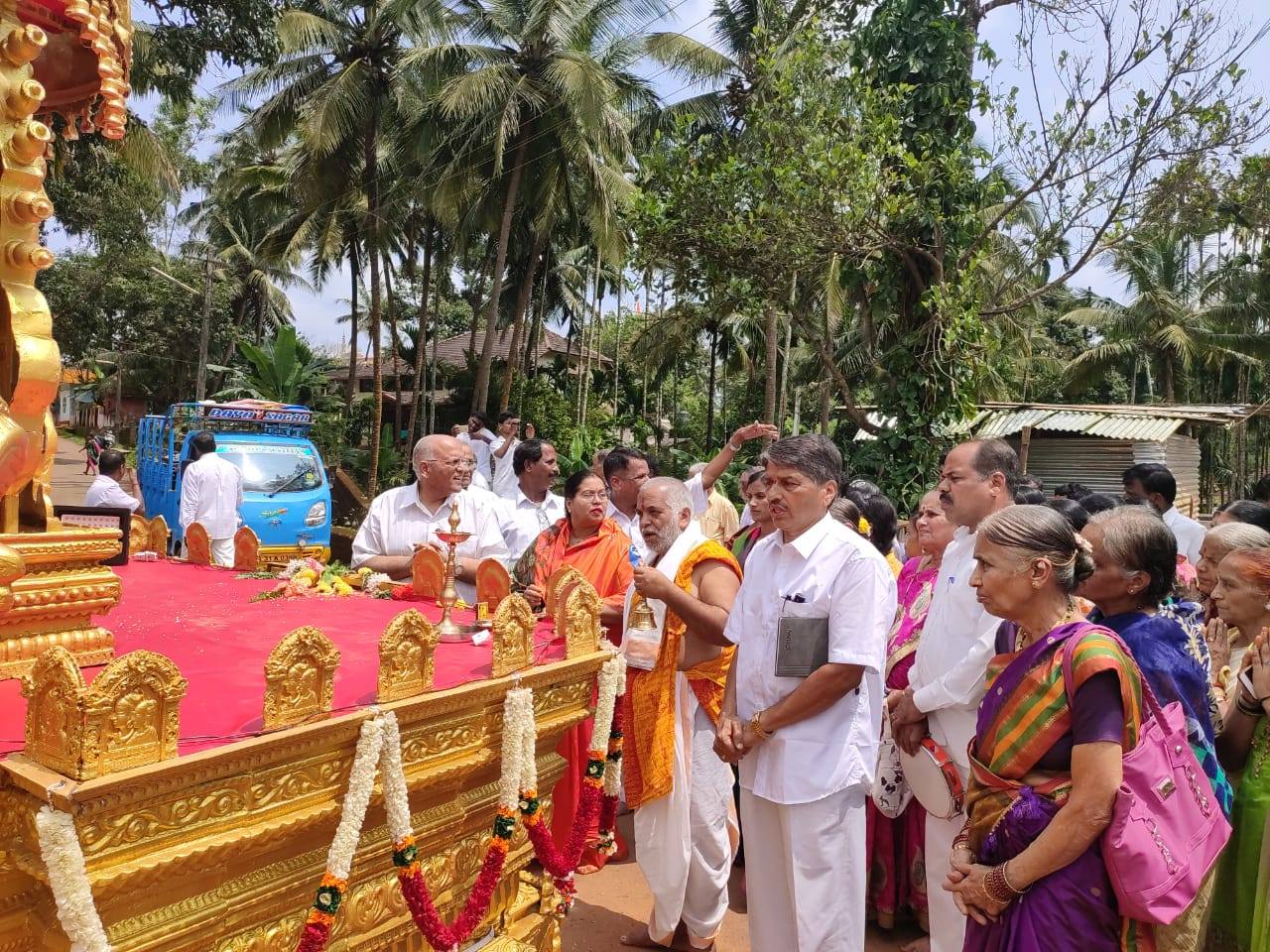 Reached Sakleshpur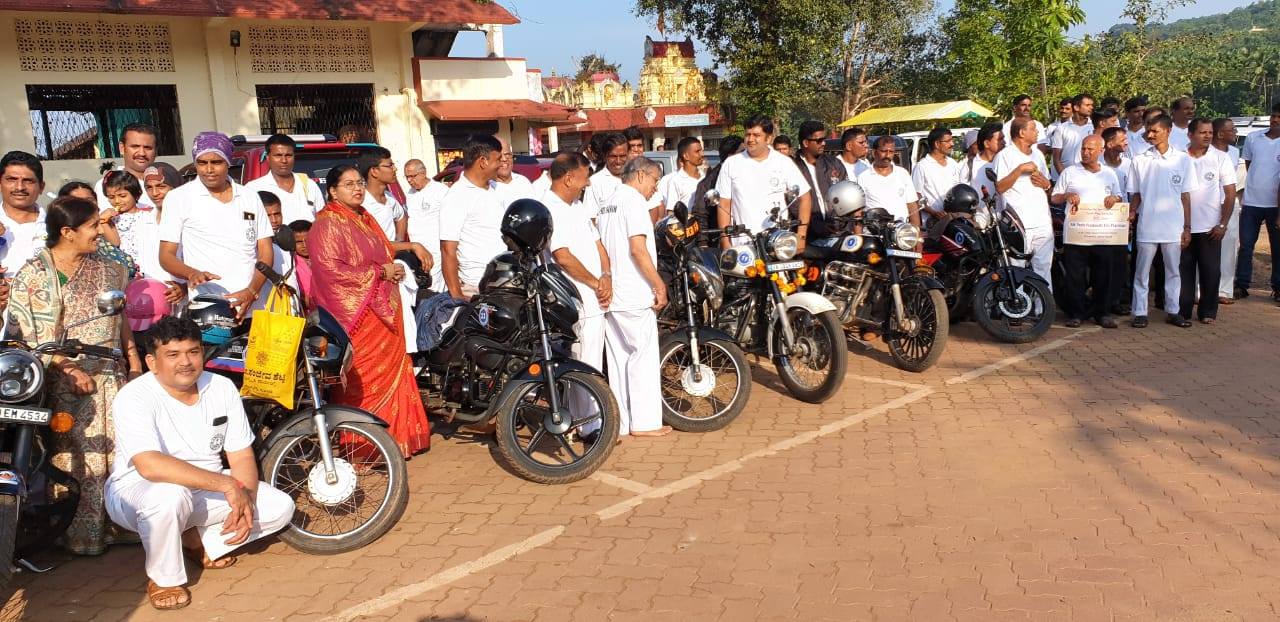 Sakleshpur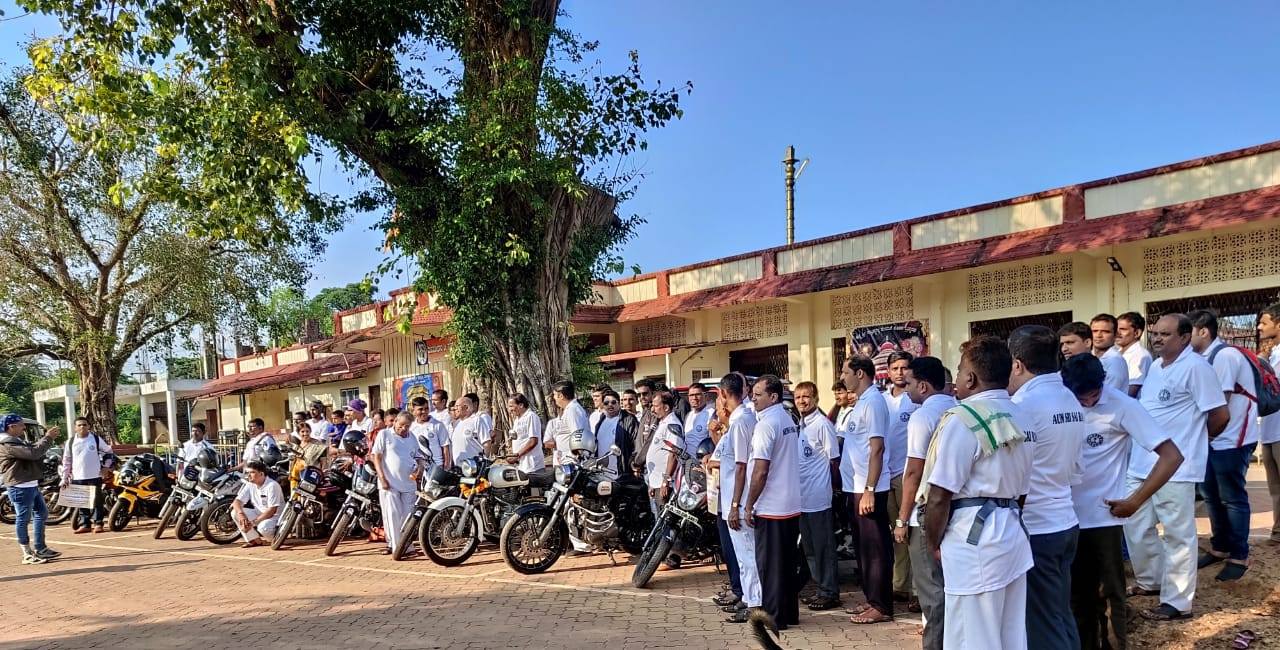 Shivamogga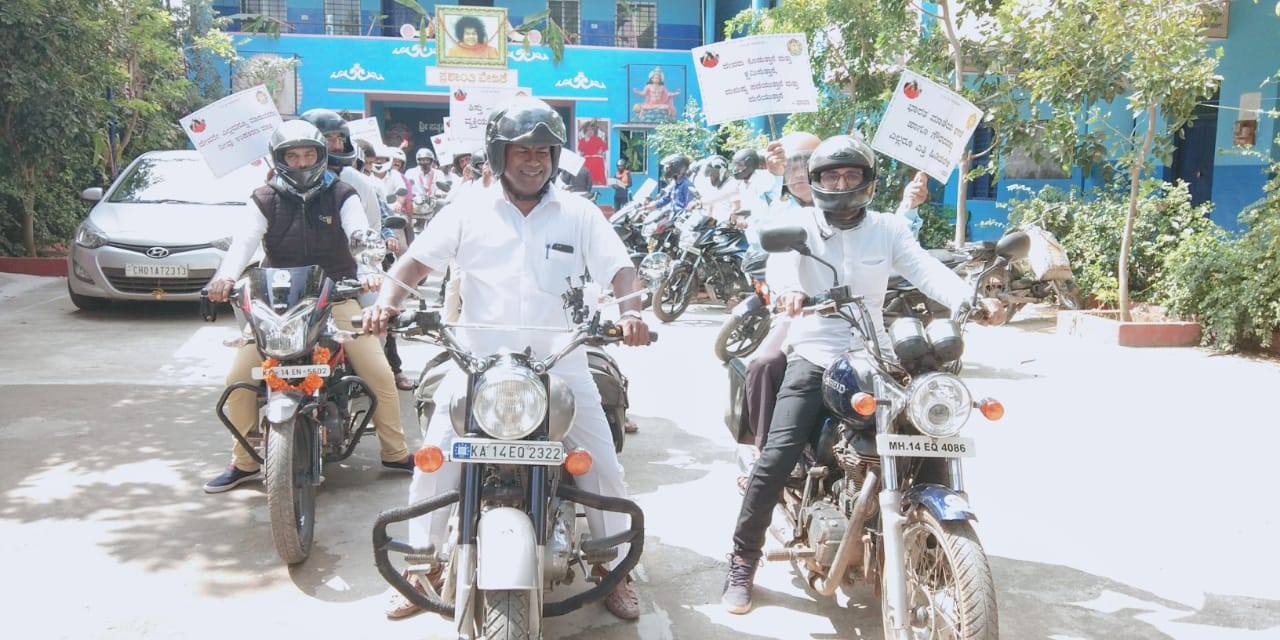 Shivamogga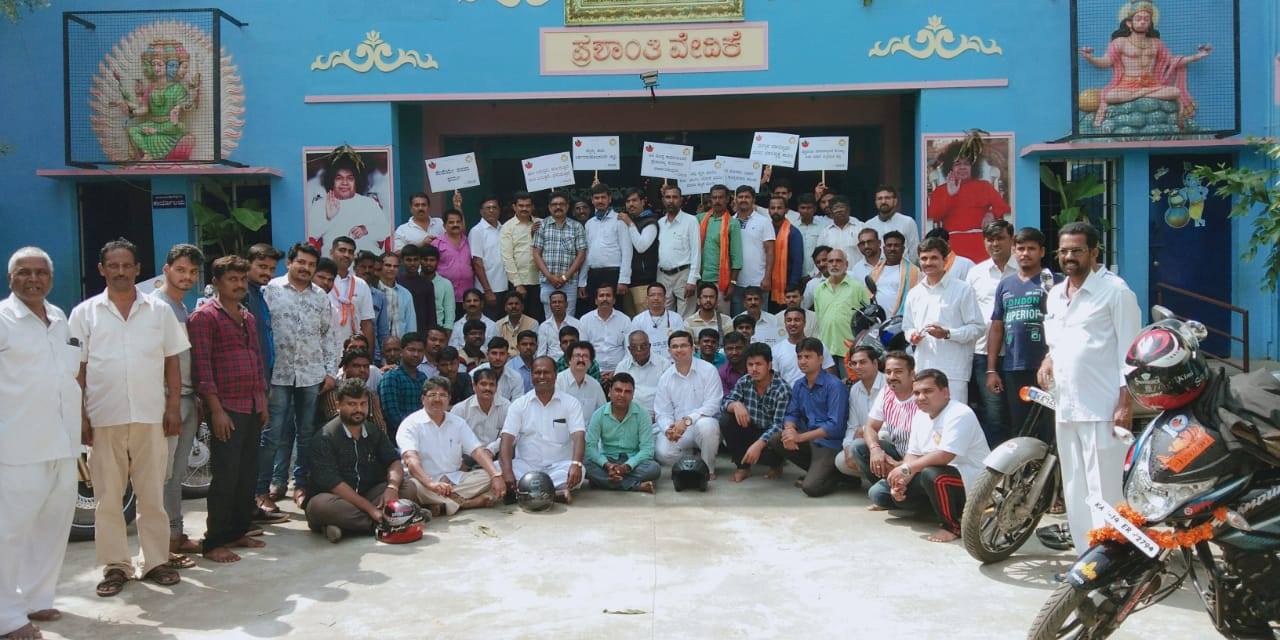 Hospet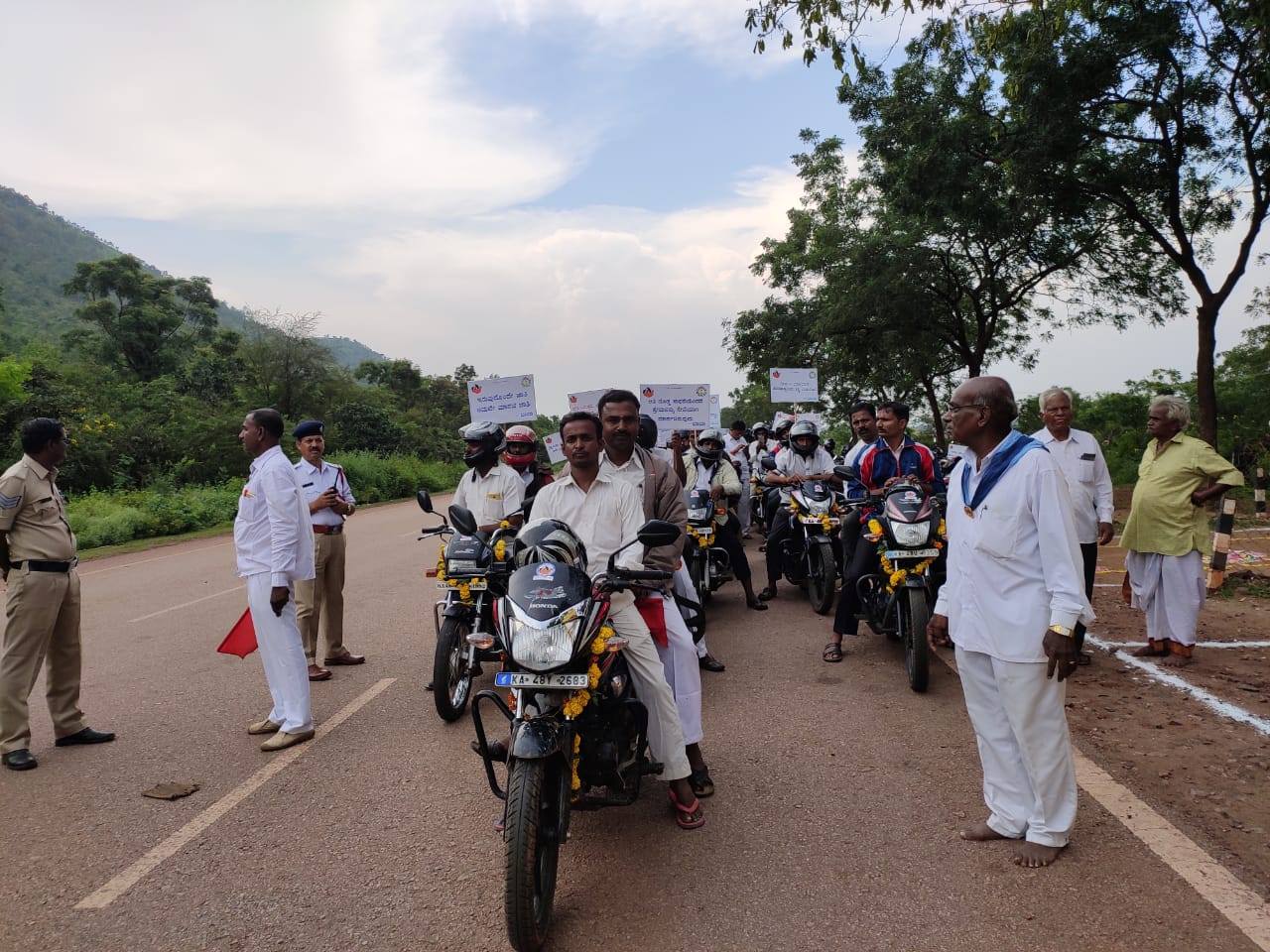 Kalburgi flag off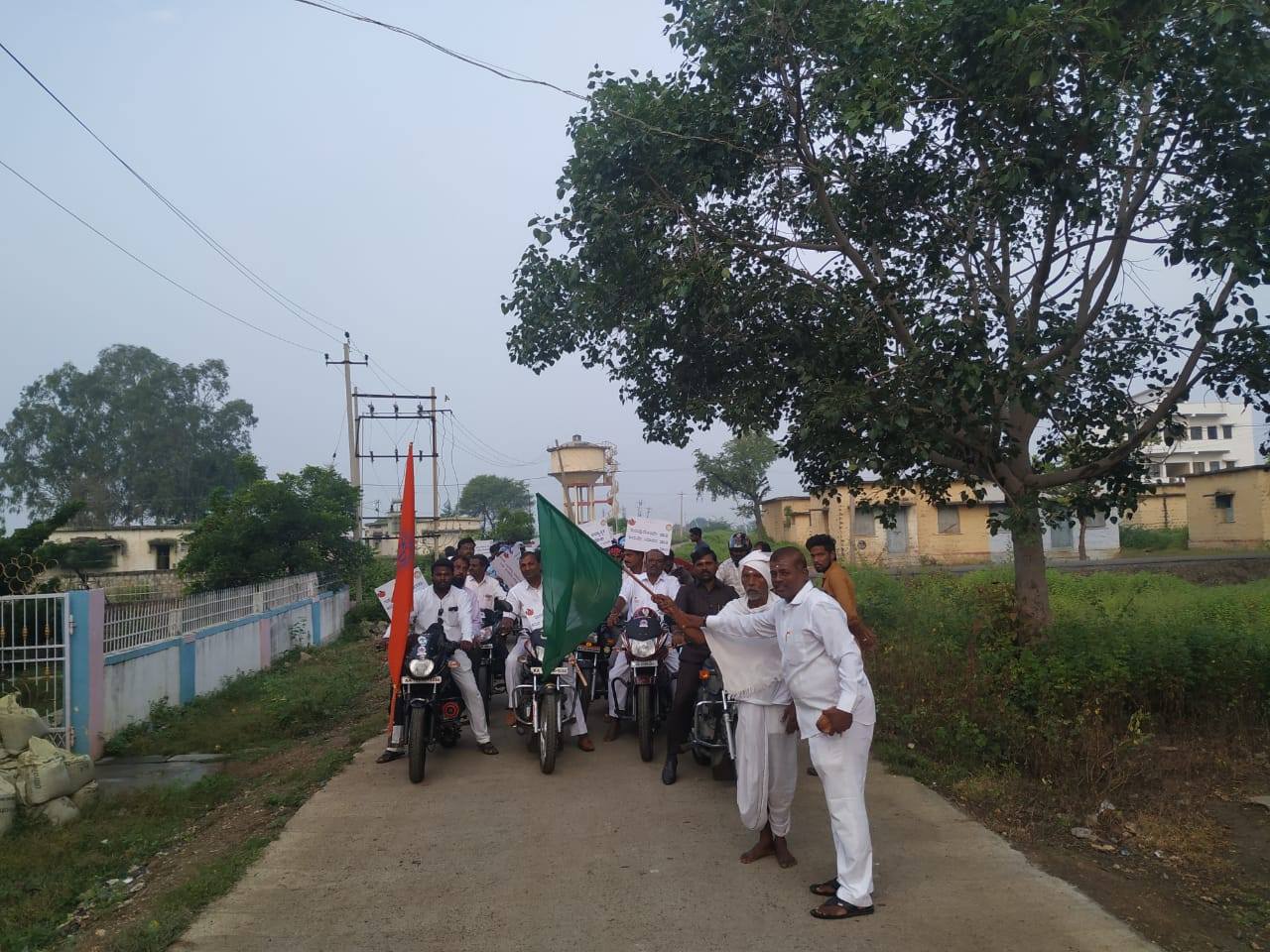 Kalburgi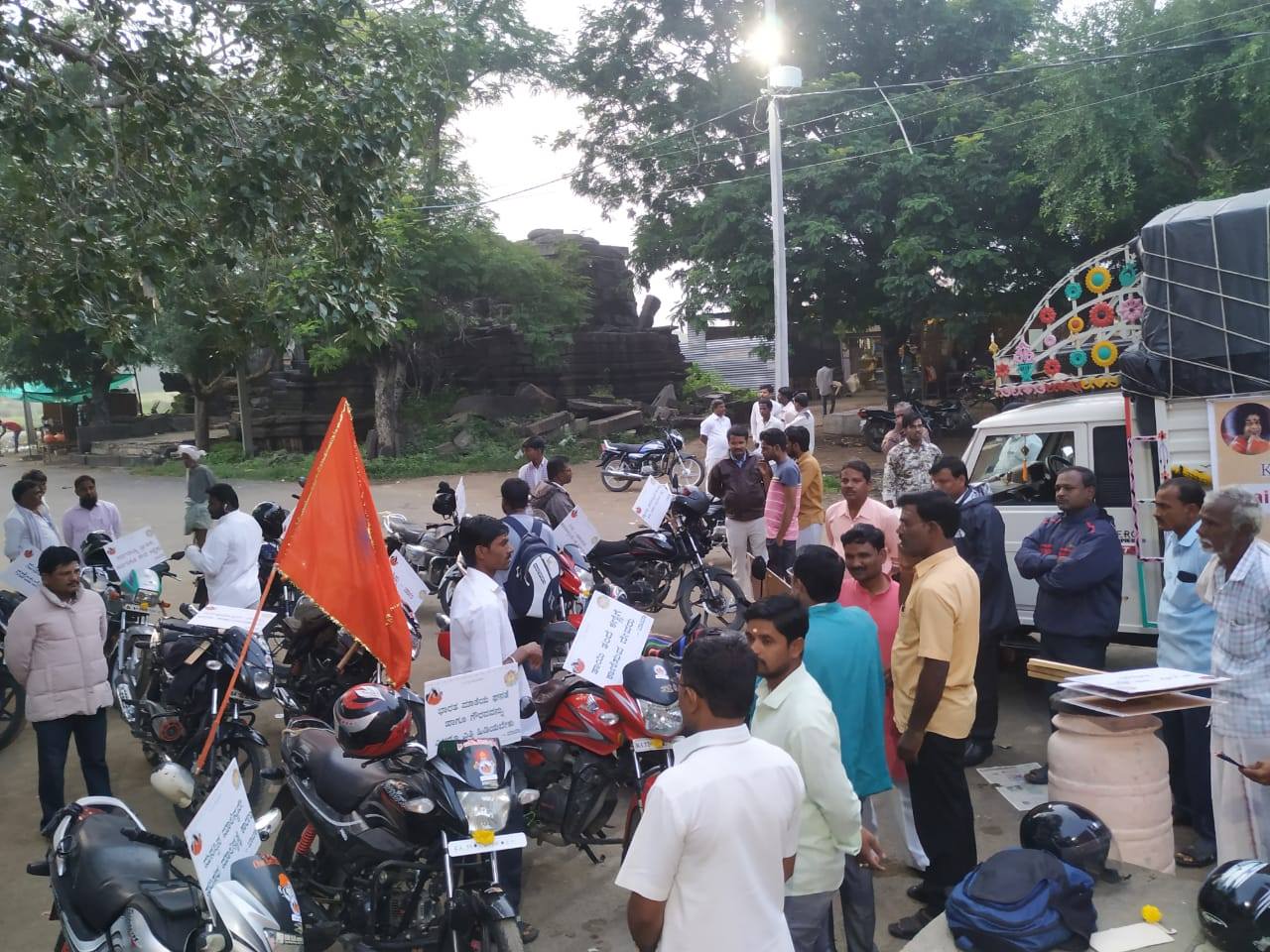 Youtube playlist of Bike Pilgrimage Videos

SRI SATHYA SAI ISHTA SIDDHI VRATHA in POORNACHANDRA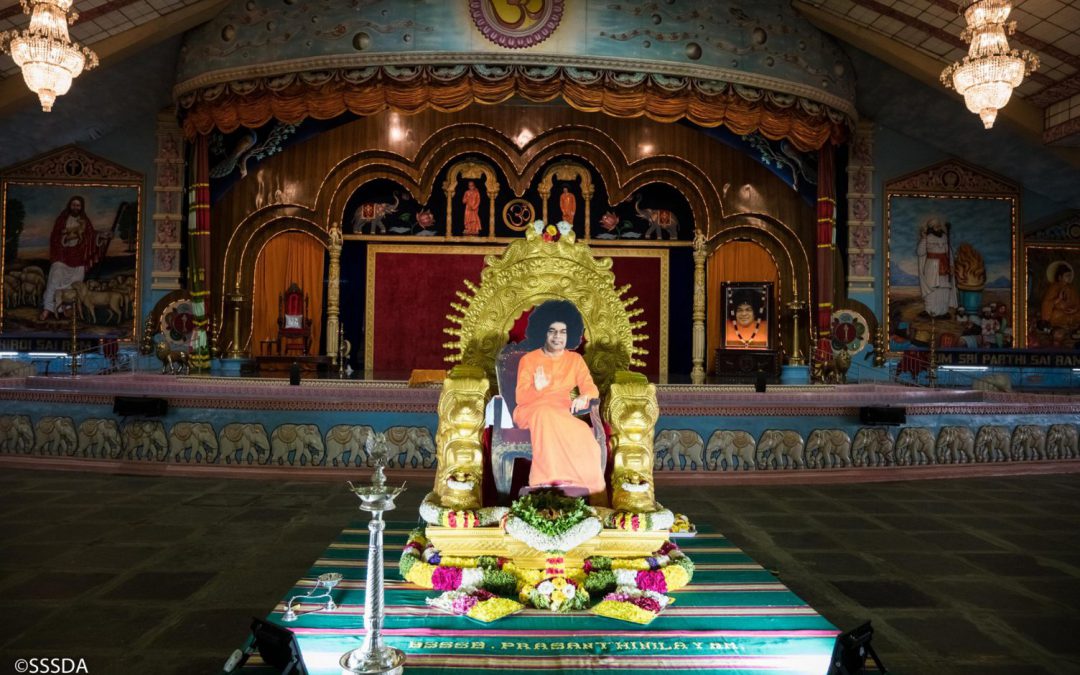 On October 12th, all participants from Karnataka, attended a special program in Poornachandra hall. This program was conducted after the regular Vedam and Bhajans in Sai Kulwant Hall. The program was conducted as an offering to Swami as a grand culmination...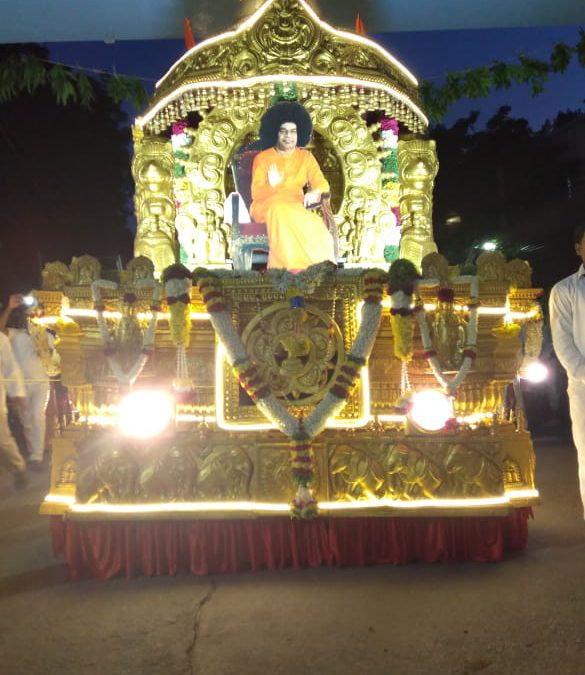 Grand Procession in Parthi - Oct 11th Evening As part of Karnataka Youth Bike Pilgrimage to Prashanti, a Grand Procession was organised as it entered Puttaparthi, on October 11th, evening. Swami's chariot was welcomed with fervour by Sri Rathnakar garu,...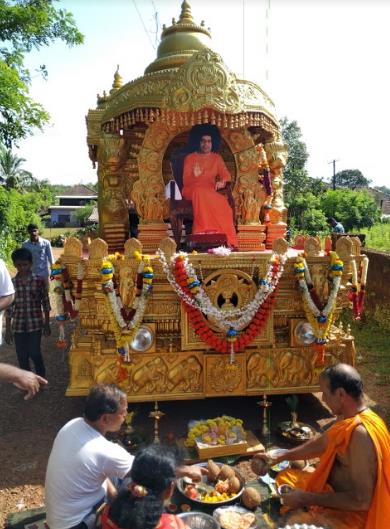 With the Grace and Blessings of our Dear Swami, Sai Youth of Karnataka are on a Bike Pilgrimage to Prashanthi Nilayam. At Kolsirsi, a pooja was performed on October 8th, to Swami's chariot specially designed for this Parthi Pilgrimage.